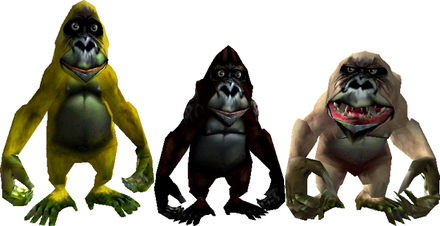 The Gorilla (Troglodytes gorilla) is a Creature of Black & White.
How to unlock
[
]
Visit the Creature Breeder on Land 1 or 4 after bucking the Gorilla creature pack.
Alignment
[
]
The natural alignment of the Gorilla is evil.
Neutral look
[
]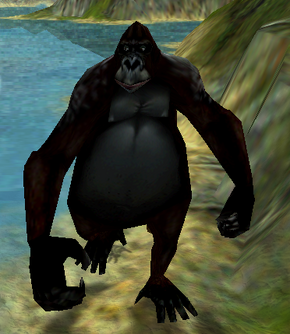 The neutral look of the Gorilla is a black gorilla.
Good look
[
]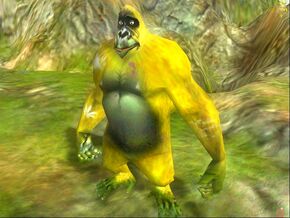 The good look of the Gorilla is a yellow gorilla.
Evil look
[
]
The evil look of the Gorilla is a silverback gorilla.
Al Characteristics
[
]
Here is a rough idea of the characteristics of the Gorilla:
speed = 6
strength = 8
intelligence = 4
General description
[
]
The Gorilla is a strong Creature, with long arm-reach and powerful blows. It is not very good at dodging, however. As a village keeper, it tends to overeat (even villagers) and/or destroy buildings if left on its own, making constant monitoring and teaching more frequent than it would be necessary for other Creatures.